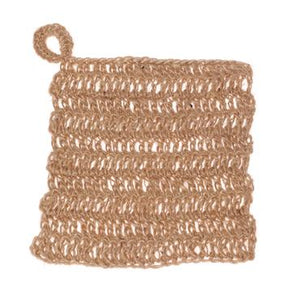 Our version of a Tawashi is hand crocheted out of the natural fibre, jute and is fantastic for washing dishes. Keep it clean by resting it in a shallow sink of boiling water and vinegar or by running in the dishwasher with your dishes. 
Plastic-free
Biodegradable
Durable and long-lasting
Made from natural fibre jute
15 cm (6") square
Hanging loop
Individually hand crocheted
Handmade in home industries, providing an income for women at home
Care instructions: Clean under running water and soak in a shallow solution of hot water and vinegar or wash in your dishwasher away from the knives. with your dishes.