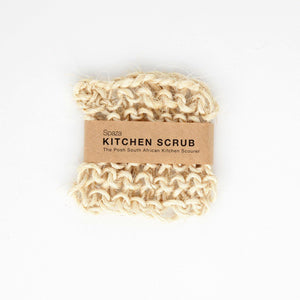 Our Kitchen Scourer is ideal for tough spots in the kitchen that require abrasion without scratching. For extra abrasion and disinfectant, use with a sprinkle of bicarbonate soda (baking soda). 
Alternative to plastic scourers.
Biodegradable, throw in the garden refuse pile
100% natural fibre sisal
12cm (4.70") square
Individually handmade so size differs slightly
Long-lasting
Production of this product creates home-based employment for women living on the outskirts of Cape Town, South Africa
Care instructions: Wash on the top shelf of your dishwasher - away from knives.