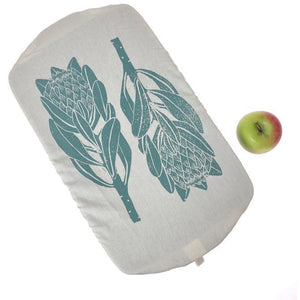 Use on the table, in the fridge or while transporting a baked treat or casserole in a rectangle dish with small or no handles.
Fits up to 36cm (14in) long and 24cm (9.25in) rectangle ovenproof dish with small handles or no handles at all.
See our Casserole Cloth for dishes with generous handles.
Breathable, limited sweating on hot dishes and no sweating or condensation at room temperature.
Simple to use - stretches over various sizes and shapes. 
Plastic-free, non-disposable, long-lasting.

Available in olive green protea print.  

Handmade by women working in home industries in and around Cape Town, South Africa.
Care instructions: Machine washable, hang to dry.