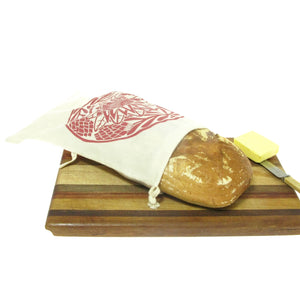 TEMPORARILY OUT OF STOCK
Storing white crispy bread in breathable bags helps to keep the bread from becoming chewing. It also produces a dry crunchy day old bread which is ideal for bruschetta or bread crumbs.  This bag is also handy if you make your own oily seed bread that tend to mould quickly.
Our 100% cotton bread bag is perfect for storing fresh andartisanal bread. Available in our Protea print in Roasted Red or Safari print in Denim Blue
Rectangle drawstring bag 23.5cm wide 41 cm tall.
100% cotton.
Hand printed in our safari series in denim blue.
Take to a bakery or farmers market.
Fantastic functional gift for baker or hostess.

Handmade by women working in home industries in and around Cape Town, South Africa.
Care instructions: Machine wash, air dry