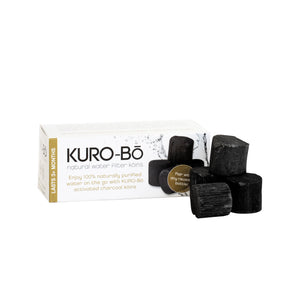 The first of their kind in the world, and scientifically-proven, KURO-Bō Activated Charcoal Kōins are a completely plastic-free, sustainable and recyclable water purification solution.
Whether paired with our Gō-Ecō Glass Water Bottles (550ml or 1L) or your own reusable bottle, a single box of KURO-Bō Kōins provides 3+ months of daily cartridge-free and naturally purified water on the go. The whole pack (4-5 pieces) will purify up to 1L of water at a time. For our 550ml bottles, simply add all the Kōins for faster purification.
Activated charcoal, or Binchotan attracts and draws out positively-charged toxins (chemicals, heavy metals, E. coli) from your water, while depositing beneficial minerals and balancing an acidic pH.
Provides 3+ months of daily naturally purified water on the go – up to 1L at a time
Plastic-free and sustainable
Ideally paired with the KURO-Bō Gō-Ecō Glass Bottles
Recyclable in many eco-friendly ways