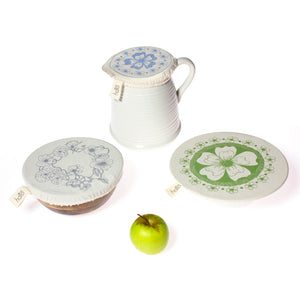 Includes a jug cover, an extra small that fits on a noodle bowl and a small size which gets used continually during the week for serving and ongoing dishes. Super handy for sauces, snack bowls and leftovers. 
 Jug cover fits 13cm | 5 in

Extra small cover fits  16cm | 6 in

Small cover fits  18cm | 7 in 

Simple to use fits various shapes and sizes.

 Breathable, no sweating of leafy greens and condensation

Plastic-free, non-disposable, long-lasting

A fantastic alternative to plastic wrap

100% lightweight cotton

Wash Care: Warm or cold machine wash. Hang or tumble dry on low.