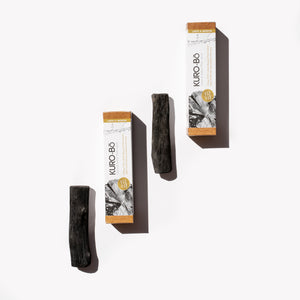 Scientifically-proven, KURO-Bō Activated Charcoal Sticks are a completely plastic-free, sustainable and recyclable water purification solution. The ultimate next generation of water filter – for home or for travel. 
Whether paired with our 100% Recycled Glass Water Dispensers (6L/12.5L) or your own carafe/jug/dispenser, a single stick of KURO-Bō Charcoal provides 3+ months of daily cartridge-free and naturally purified water. The charcoal stick will purify up to 3L of water at a time. For greater volumes, simply add extra sticks.
Activated charcoal, or Binchotan attracts and draws out positively-charged toxins (chemicals, heavy metals, E. coli) from your water, while depositing beneficial minerals and balancing an acidic pH.
After 3 months of daily use, recycle your KURO-Bō Activated Charcoal Stick in any number of innovative and eco-friendly ways, for example, in your pet's bowl, as a biochar on your plants, as an organic air purifier or dehumidifier, or in your fridge to prolong the shelf life of your fresh fruit and vegetables.
Provides 3+ months of daily naturally purified water
The ultimate plastic-free and sustainable water filter
Extremely light and portable – ideal for both home and holidays
Ideally paired with KURO-Bō 100% Recycled Glass Water Dispensers
Recyclable in many eco-friendly ways
A unique personal or corporate gifting option