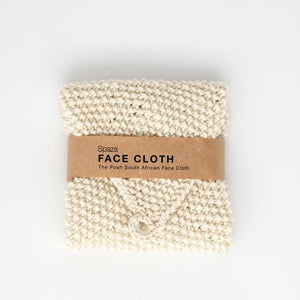 There is something very luxurious about the feeling of a hand-knitted cloth and this one made by Colleen is simply beautiful.  Thick cotton holds heat and steam while gently exfoliating face and body. 
100% cotton, grown and processed in South Africa.

Holds steam and gently exfoliates.
Loop for hanging.
Wash often, dry fully after every use.
Cold or warm machine wash, air or tumble dry.
Hand-knit by Colleen from her home in Cape Town, South Africa.
Hand-knit, so sizes vary slightly: 22 cm (8,6") square.